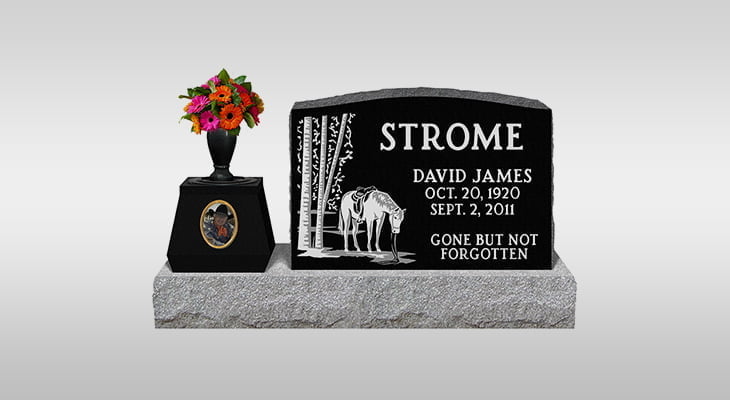 Cemeteries can be owned and operated by cities, municipalities, and religious organizations. Each will have its own specific rules and regulations regarding their desire for esthetics, maintenance, and cemetery perpetuity.
Before purchasing a memorial for your loved one, it's vital to note the required paperwork and costs for placing/installing a monument and the specific allowances and restrictions regarding style, material, size, color, and accessory options like porcelain photos or vases.
Various by-laws will vary from cemetery to cemetery and may differ from location to location within the same cemetery. Some cemeteries have their own memorial supply company and charge additional fees to place a headstone from an outside vendor.
In this article, we will go over some of the most vital questions you should ask your monument company before buying a memorial stone. A reputable headstone specialist can inquire with your cemetery of choice regarding these questions on your behalf and help you choose the best memorial accordingly.
Are There Any Material, Size, And Style Restrictions For Memorials?
Many cemeteries have rules and regulations for materials, sizes, and styles allowed for different memorials. If your cemetery of choice allows upright granite headstones, make sure to check their rules for particular measurements. Some monuments can have a base that the headstone sits on.
Suppose you want a nontraditional monument style, like a cremation or bench memorial; finding out whether or not this type of memorial is allowed at your cemetery of choice is important. A professional monument company will confirm with the cemetery to see what materials, sizes, and styles are allowed.
Do They Allow Upright Headstones?
Some cemeteries may only allow grave markers that are level with the ground. If you still decide to choose this cemetery, this will limit your options. Specific sections of the cemetery may even have added limitations; it's always best to check with your memorial company regarding certain cemeteries' specific rules and requirements.
Do They Allow Unique Monuments?
Always consult with your memorial company to see if your monument design fits with your desired cemeteries regulations. A memorial can be a great way to showcase a loved one's personality. Nevertheless, your cemetery may not approve a distinct design that's too tall or unique.
Therefore, it's vital to be as specific as possible when describing your memorial design requirements. After your monument company obtains these specific details from you, they can consult with the cemetery and confirm your monument placement will proceed without any issues.
Who Will Install The Monument?
Always ask your monument provider this question, "who is responsible for the memorial installation?" Some cemeteries handle monument installation themselves. Others might only allow specialized headstone installation and maintenance service providers due to their comprehensive cemetery memorial services.
Summit Memorials helps its clients honor the memory of their loved ones with high-quality granite memorials across Alberta and Saskatchewan. Visit our website to learn about our various granite memorial offerings, or contact us for personalized care and service.