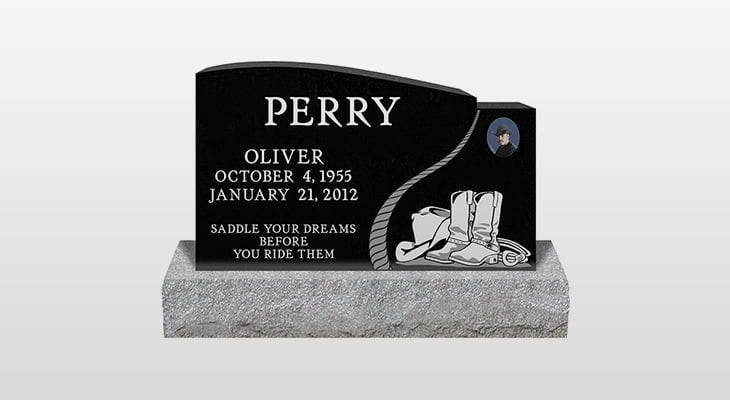 Modern headstones help you pay tribute to your loved ones through beautiful verses or words. They can also help you create a lasting memory of your loved ones and treasured pets with photographic engravings. Images are the best way to personalize a memorial design that can last for many years to come when etched or engraved accurately. We live in a colorful, photo-filled world, even more so since the inception of social media platforms.
When thinking of a lasting image to go on your monument, here are a few things to consider:
Select The Right Headstone Producer
Modern technology techniques and headstone specialists have made it possible for people to add high-quality photos to their gravestones, such as headstones, grave markers, and monuments. Memorializing a loved one by personalizing a memorial stone is one of the best ways to honor your loved ones.
If you want to add a particular photo to a headstone or a flat grave marker but don't know about the cemeteries' rules and various photo requirements, be sure to consult with your memorial company of choice. A headstone specialist will help you produce the most meaningful gravestone by choosing the right image with accurate dimensions.
Choose The Right Etching Or Engraving Method
You can either ask your memorial specialists to directly etch your favorite photo into the granite via laser or the diamond-etched method. It can also be permanently transferred into porcelain to preserve the color and the image's integrity and set into the granite with a permanent adhesive. The details are vastly different. One gets simplified down to a black and white photograph, and the other has options either way.
As cemetery monument experts, an example of a good image to etch directly into granite would be an aerial image of the family farm. However, we wouldn't recommend etching people's faces into the granite. Although Supreme Black Granite looks smooth and spotless, it is still a natural medium that could potentially present a tiny dot (resembling a mole) on someone's cheek.
Choose The Right Photo Type
We strongly recommend porcelain photos for a person's image. We also consider some other vital details, including the picture's quality & clarity (this can play into the size of porcelain used). Does the 102-year-old Grandma have a story captured in her 100th birthday photo that you want to engrave on her headstone, or would a homesteading photo from 1920 with her swaddled in her mother's arms do her justice?
Knowing that Grandma wasn't always "old" might lean you toward selecting a healthy and vibrant image from her 70th birthday depicting "a life well lived" best. The right photo will be unique to your family; the correct image will "tell a story" and leave a lasting impression.
Avoid Using Cropped Or Processed Photos
Ensure that the picture you select is the exact image you want to be displayed on your chosen headstone. If your photo is cropped or edited, it will be difficult to fill or fix the lost parts on your monument. Therefore, it's important to choose an image that's not cut or altered.
You should also avoid using pictures that have already been processed. This includes etching or engraving printed images on a memorial card. Some people simply take a picture from a framed photograph using their smartphone and ask their memorial service provider to imprint the same image on a headstone. Such image types are either too small, blurry, or have little detail, making it difficult to replicate the image correctly on the gravestone properly.
Always Select High-Resolution Photos
If you want your picture to be imprinted precisely, ensure that you use a high-resolution image. The image you decide to use should have been taken with either a professional camera or a good quality smartphone in order to achieve the best etching results.
Also, avoid downloading social media images as downloaded photos are usually low resolution, which is not the required standard for a picture to be replicated on a gravestone. It's best to get images directly from your camera or smartphone used to take the original photos.
Summit Memorials helps you honor you and your loved ones with highly customized granite headstones across Alberta and Saskatchewan. Visit our website to see our selection of memorials or contact us for personalized service.