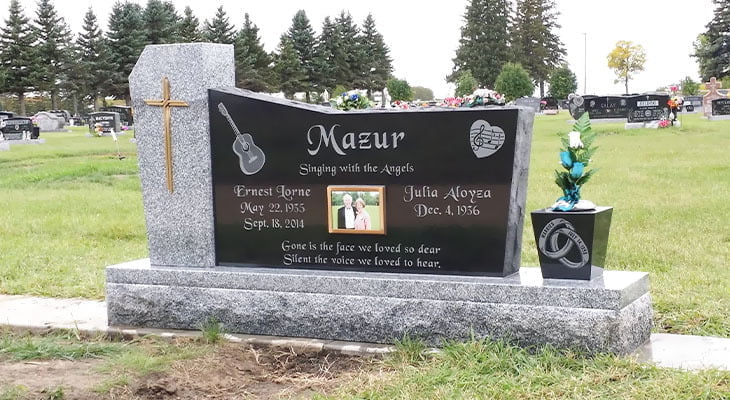 The end of your loved one's life should be a reflection of their life. Moreover, memorials are an important part of a grieving process that gives the family of the deceased a way to celebrate the life that their loved one lived.
While planning the services, most families and friends seek certain ways to make the memorial special. In addition to speaking words of wisdom and getting together to relive old memories, you can curate a personal touch by personalizing the headstone of your loved one.
From adding customized quotes and pictures to inscribing mementos on the headstones, you can opt for any personalization option that you feel will resonate with the personality of the loved one.
In this blog, we have listed some of the ways in which you can personalize the memorial of a loved one.
Headstone Personalizations
Before you move on to personalizing a headstone, there are a few things you should think about. One of the factors you should consider while designing a memorial for a loved one is what their personality was, whether they were generous, funny, loving, or kind or a combination of all these traits. What did they enjoy doing? What were their hobbies and achievements? Answering these questions can help you personalize the memorial and embody the life they lived.
When it comes to personalizing a memorial, the options are almost endless. Here are some ideas to consider when making these choices:
Colour
One way to personalize a memorial is to choose a granite colour or a bronze colour that the person who has passed away liked. Both of these materials come in a variety of colours.
At Summit Memorials, we deal in several naturally available granite colours. Each one is quarried in a different region of the world. The price of each granite piece will depend on the colour.
Size and Shape
Unless it is a cemetery requirement, memorials can be any shape and size and come in many different forms. There are also other memorial options like benches and natural boulders to choose from as well.
As far as granite memorials are concerned, they traditionally come in three options:
Flat markers that sit flush in the ground or on top of a foundation
Pillow memorials which typically sit on a granite base and are slightly sloped from back to front
Upright monuments are the most common and are usually rectangular in shape but can be manufactured in almost any shape desired.
Designs and Photos
Memorials can now be decorated with pictures and graphics. These elements can be laser/diamond etched on the stone. The designs can be of personal things like a beloved car or a picture of their farm. It can be anything that really meant something to the person who has passed away.
You can also use colour or black and white DuraPhotos made from porcelain and attached permanently to the memorial.
Epitaphs and Inscriptions
What is etched on the monument is a very important part of the memorial. Epitaphs share a bit about the loved one for surviving family and future generations. They can be funny, serious, religious, or even a saying they were known for.
These epitaphs are added to the monument by sandblasted engraving
Symbols
Did they have a favourite hobby? A pet that they loved? A sport they loved to watch? All these things can be shown on the monument to tell a little about the person who has passed away.
Duraphoto
A duraphoto is a ceramic photo of your choice that can be done in either colour or black and white. These pictures are added to the headstone in coloured or black and white format according to your request.
The best part about these pictures is that they can withstand rain, snowfall, as well as heavy winds and are guaranteed never to fade.
All the ideas mentioned above are just the beginning of what are endless options you can use for personalizing a memorial.
About Summit Memorials
Let us help you honour your loved ones in the best way possible. Our specially trained staff tries to make the toughest time of your life a little bit easier by providing high-quality memorial services and products. The headstones that our craftsmen build are the best in the business. The granite headstones we provide in Alberta and Saskatchewan are guaranteed to never wear out or crack due to normal elements and weather conditions.
At Summit Memorials, we provide our customers with premium quality and well-crafted monuments, headstones, tombstones, and grave markers. For more information about our services, visit our website or contact us here today.