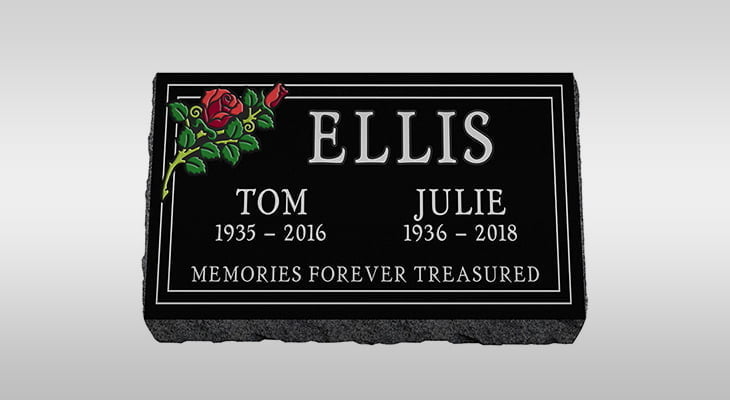 Losing a loved one is an increasingly difficult situation. Surviving family members take up the overwhelming responsibility of planning the final cemetery arrangements while processing their grief. This can result in sudden financial burdens and stressful decision-making if the deceased's last wishes aren't known regarding their memorial selection.
Many people choose to pre-plan their cemetery arrangements to give their loved ones much-needed peace of mind at the time of their death. When consulting a monument service provider to preplan your memorial, you can select and document your final wishes and crucial memorial details.
A reputable memorial company can help you design a unique monument. You can also decide on necessary cemetery headstone details, including the cemetery grave markers size, shape, custom design, material, color, inscriptions, and more. They may ask you about your family name, hobbies, passions, careers, and other relevant queries to create an increasingly personalized memorial that would 'tell a story.'
Follow these guidelines to preplan your cemetery memorial better and design the most personalized monument:
Select The Right Monument Company
Many people purchase a piece of land at their local cemetery, later realizing that the memorial they envisioned isn't even permitted there. An expert monument company conducts proper research on local cemeteries, including particular monument rules and regulations. Therefore, it's best to consult a certified monument dealer who knows all about your desired cemetery's memorial guidelines to help you navigate different monument options.
Select A Proper Memorial Headstone
Headstones, markers, or monuments can (and should) be part of your planning as well. While they are installed after burial, choosing, designing, and purchasing your memorial stone in advance ensures that it is indeed your selection and not someone else's. This way, your family won't have to go through making the tough choices of selecting an appropriate headstone that memorializes your life.
You can buy your future grave marker from a monument company, a nearby cemetery, or a funeral home. Cemeteries and funeral service providers usually offer memorials and gravestones as part of their service package. However, their range of choices can be limited. When preplanning your cemetery memorial, it's best to consult a dedicated monument company to know about the range of monument materials, personalized designs, and other options available. They can design and create your memorial stone and install it at the cemetery when the time comes.
Size And Shape
A memorial specialist provides monuments that vary in size, shape, and style. Review all the available options to ensure you choose a memorial or monument that embodies your final wishes. There's a range of memorial types, including upright and pillow monuments, flat markers, slant markers, memorial benches and boulders, granite and bronze markers, and more in every price range.
Color
Another vital thing to consider that should be on your memorial planning checklist is the monument's color. Select an appropriate stone type that best suits you. There are various granite headstone colors, shades, and patterns you can choose from. These may include Aurora, Britz Blue, Regal Red, Amazon Green, Supreme Black, Blue Pearl, Stanstead Grey, Laurentian Pink, Emerald Pearl, and more. It's essential to note that granite is a natural stone and comes in a variety of shades.
Design
After choosing your preferred granite stone size, shape, and color, the next thing to focus on is its design. A memorial stone is a lot more than just a grave marker stone; consider it as a personalized tribute to honor your loved one's life. Talk to your memorial specialist about various monument design options.
The finished monument design depends mainly on your selected stone and applicable techniques. Some common memorial design methods include sandblasting, laser, and hand etching. You can also ask your memorial specialist to look at past projects to select a proper design technique that truly reflects your final wishes.
Make Necessary Memorial Arrangements
Talk to your monument specialist about the custom design, material, color, production, storage, and installation services regarding your cemetery memorial arrangements. Here, you can get an idea about what your memorial company provides and is responsible for, what's included and what's not included in the package.
It would help if you gained a clear understanding of the entire scope of monument services from start to finish. Once your monument arrangements are final, don't forget to keep a record of your funeral-related papers' written service agreement.
Summit Memorials helps to honor your loved ones with high-quality granite headstones across Alberta and Saskatchewan. Visit our website to browse through our range of granite monuments or contact us for personalized service.