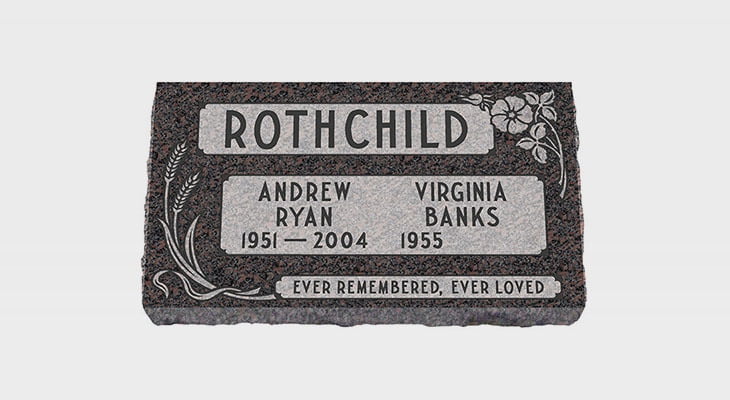 A memorial gravestone serves as a significant way to pay tribute and honor the memory of someone close to you who you've lost. It's essential to choose a cemetery monument that is pleasing to the eye and lasts for decades. There are many different types of headstone materials, but not all are as durable as granite and can withstand harsh weather conditions.
When choosing a new memorial stone for a recently lost loved one, one of the major questions that typically arise in a buyer's mind is, "how much will it cost"? While researching various granite tombstone options and their costs, you might find that prices can vary significantly. These varying costs are usually due to certain factors involved in the making of a particular granite memorial stone.
We will now discuss some essential considerations that go into deciding the final price of a specific granite cemetery monument:
Quality Of The Granite Used
Not all granite headstones are made the same, keeping quality in mind. Look for a memorial company that sources high-quality granite from reputable suppliers. Some lower quality granite has certain defects and may be treated with chemicals to enhance the tone and color. These chemically treated granite stones will break down over time when exposed to different weather conditions and direct sunlight, whereas quality granite will not.
Granite Monument Size
The larger the granite piece used, the more the final product will cost. This is mainly affected by the height, width, and thickness of the granite. Flat grave markers are usually more cost-effective as they tend to be smaller, while uprights and pillows commonly include a base that helps protect the monument but do come at a higher cost.
Granite Color Used
Granite comes in various colors sourced from many different places worldwide. It's noteworthy here that certain colors come from specific regions. For example, Black Granite typically comes from China or India, Blue Pearl comes from Norway, and Stanstead Grey comes from Canada. Because of the location, the yield of the quarry, and operating costs, the granite color will vary in price.
Granite Headstone Texture And Shape
Both of these factors affect the pricing of a cemetery monument. If you require an upright monument that is polished on all five sides instead of just the front and back (the sides would be rock pitched), it will cost you more. The more polished you would like the sides to be, the more time it will take the monument to be completed.
The shape of the memorial is also vital to consider. If you go with a standard form (usually referred to as a "SERP top), it will be less expensive than a customized shape that will take more time to carve out.
Granite Stone Inscriptions
Besides the granite stone's quality, color, size, shape, and texture, the amount of artwork, graphics, or inscriptions done on a final piece will also determine its final cost. The final price is determined by certain factors, including graphic artwork details, the font, and the available space on the headstone, and more.
A professional monument company will always inform you about your memorial's inscriptions upfront in their price estimate.
Summit Memorials is proud to help you pay tribute to your loved ones with customized, quality granite monuments across Alberta and Saskatchewan. Visit our website to learn more about us or contact us for personalized service.