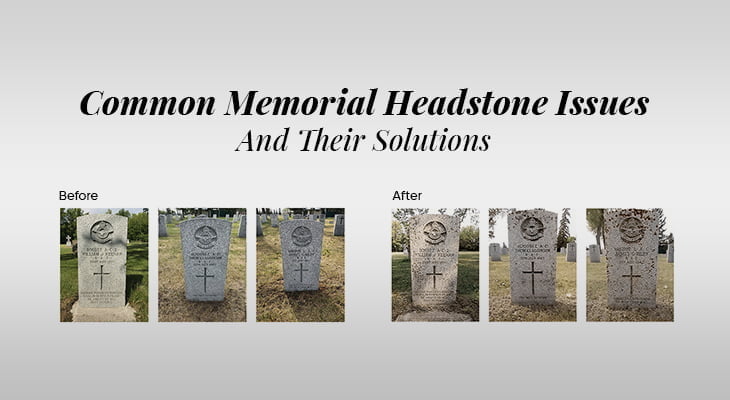 Memorial gravestones are essential to respecting our lost loved ones, keeping their memories alive, and memorializing them in the most personalized fashion. People sometimes face difficulties with their cemetery stones, including improper installation, lack of adequate cleaning, maintenance, repair, selecting the wrong material, imprinting the incorrect spellings or fonts, cracks and scratches, and other related dilemmas. Always have your new monument installed through a certified memorial headstone specialist to avoid facing such problems in the future.
Here, we will discuss some memorial headstone issues and their solutions.
Headstone Falling Over
Without proper maintenance and care, your headstone can experience frequent deterioration and even fall over from its original place. Most monuments fall over very slowly due to a lack of stable foundation. Two things that can impact a foundation's stability are its base material quality and the soil's stability supporting the foundation. To avoid this, it's best to have your monument installed with the help of a professional monument company who knows all the ins and outs of the memorial stone installation process, including soil and foundation stability concerns.
Grass Growing Over The Sides Of A Flat Grave Marker
This is a common issue and can be solved by encasing the flat grave marker in cement with a 2-3 inch border around the marker. This will keep the grass from growing over the monument (it may grow over the cement border), so you will see the marker and its information.
Monument Becomes Dirty Or Has Lichen Growing On It
First of all, do not use chemicals when cleaning a monument (like vinegar or bleach) – these may harm the memorial. Instead, use warm soapy water and a soft plastic or natural brush (never use wire brushes). For lichens and moss, use a plastic or wooden scraper to scrape it off, and then use a brush with soap and water to remove anything left behind. Rinse with clean water and dry off with a microfibre cloth (or a cloth that does not leave any fuzz behind). Summit Memorials offers a cleaning service to bring your memorial back to its original lustre.
Monument Becomes Unlevel
If a monument becomes unlevel over a period of time, a reputable monument company can help you solve this issue. If it's just a small flat marker, this can sometimes be resolved by lifting the marker out of its spot and relevel the hole using sand or clay/dirt and a level and then setting the marker back in place. If it's a larger more extensive monument, your memorial company can come with their equipment (usually a crane on the back of a truck) to remove the memorial and relevel the foundation and then set the monument back in place.
At Summit Memorials, all of our installations include a five-year warranty so that if the monument becomes unlevel, we will go back and level it for free within those five years.
About Summit Memorials
Summit Memorials is proud to help its clients honor their loved ones by supplying and installing high-quality granite headstones across Alberta and Saskatchewan. For more information, visit our website or contact us for personalized service.