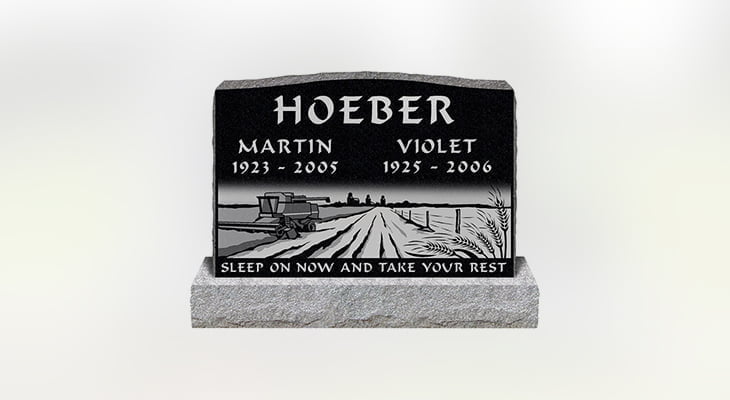 There is no better way to say goodbye to your loved ones than by creating a beautiful and fitting headstone for them. Many religions encourage visiting your loved ones at their grave and ensuring that future generations get enough insight into who lies there, making it important to invest in designing a well-put and durable headstone.
The families of the deceased design a headstone with a lot of love and care which is why at Summit Memorials, we work extra hard to ensure that these monuments last for a lifetime. We provide a written guarantee that states the granite will never crack or deteriorate from exposure to the elements. It also states that the lettering and design will remain legible for all time. The best part is, there is no time limit on the guarantee and no deductible.
Most headstones have a good lifespan, but the effects of weather, the dullness in the finish of the stone, and the effects of nature's elements on the design of a low-quality headstone cannot be prevented.
Hence, you are advised to get monument restoration services every few years if you see any dullness in the headstone. We also provide monument cleaning services in case you believe the headstone has accumulated dirt and grime over the years.
This will help you keep the monument in its original condition. It is always better to hire a professional when it comes to restoring and cleaning your loved one's monument. They are well-versed in all the techniques and know-how to properly restore a monument without damaging it.
If you are not sure whether your loved one's monument needs restoration or not, we have mentioned some of the signs of a deteriorating monument that needs restoration. Here are several ways that certain elements and time can damage a headstone:
Fading Lettering And Design
The lettering or designs on the monument may appear to fade over time, but this may be due to dirt and grime accumulating on it. Getting routine cleaning for the monument, that is, once every twelve to fourteen months can keep this issue at bay. It will keep the appearance of the monument looking bright and new.
Chipping Or Cracking Of The Monument Stone
Since the monument has to endure harsh weather conditions and other elements of nature, some may start to deteriorate. Headstones are constantly bombarded by the weather, including rain, snow, wind and intense heat. All this can affect a headstone's durability.
In addition to this, cemetery maintenance work may also result in some unintentional damage to the headstone. Sometimes shooting rocks as a result of cutting grass or accidentally bumping it with cleaning equipment can chip off the sides of the monument. This could also result in small or large cracks that could increase over time. A monument repair team can skillfully repair these cracks or chips, restoring the monument to its original condition.
Sinking Monument
Chances are that at some point over the years, the ground around or under the monument will erode, causing the monument to become unlevel and even tip over in some cases. Adding a foundation under the monument will help stabilize the monument and keep it from sinking. You can also add a layer of granite or cement between the ground and the monument.
The Headstone Becomes Dirty
Monuments become dirty over time for a variety of reasons. These might include:
Lichen growth
Excessive weathering
Grass clippings
By properly cleaning the headstone, you can bring it back to its original luster. Most of the time, all this requires is some warm soapy water, a soft-bristled brush, a microfibre cloth (so it won't leave any "fuzzies" behind) and some clean water to wash everything off.
About Summit Memorials
Let us help you honour your loved ones in the best way possible. Our specially trained staff tries to make the toughest time of your life a little bit easier by providing high-quality memorial services and products. The headstones that our craftsmen build are the best in the business. The granite headstones we provide in Alberta and Saskatchewan are guaranteed to never wear out or crack due to normal elements and weather conditions.
At Summit Memorials, we provide our customers with premium quality and well-crafted monuments, headstones, tombstones, and grave markers. For more information about our services, visit our website or contact us here today.